Start your own Image Hosting website today!
ImageHost Image Hosting script allow you to run your own image sharing portal. Visitors will be able to upload images to your website, share it with others and manage images.
The script is created in PHP/MYSQL. Script use mysqli php module. The script comes with default responsive theme which is mobile friendly, since today a lot of the web traffic comes from tablets and mobile devices.
Run your own image hosting service in a few minutes
Simple and easy to use PHP Image hosting script, which aims to make it easy to setup and maintain a photo/image hosting/sharing site. With thumbnails and social bookmarking links generated for each image, sharing your images or photos across the web couldn't be made any easier.
Easy to Setup
Our Image Hosting Script is very easy to install.Our detailed install guide will help you go through all the processes without difficulty.
Drag & Drop feature
Image Hosting Script gives you the most advanced image uploading technology so that you can run a modern and up-to-date service
Sharing Codes
Our Image Hosting Script provides all the necessary codes to share any uploaded photos on forums, websites, blogs or simply by direct links.
Earn Money
We created our application for you to earn on it. All functions like e.g. SEO features,social media integration are supposed to help you increase your profit
100% source code!
Our Image Hosting Script comes with 100% source code, we don't encode any of the source at all. This gives you the flexibility to adapt and add features to the script
Advanced Administration
Our Image Hosting Script gives you the ability to be the master of your service and lets you define all the characteristics in a few clicks.
Member Features
Users can upload unlimited images
Users can upload private images
Registered users can delete their images
Mobile friendly template design(CSS Bootstrap)
Users can share images in websites, blogs, forums etc.
Change password at any time
Password recovery
Quick & easy user registration
Option for users to report spam/abuse
Auto thumbnail generation
Auto generation of different linking types
Mobile Friendly design
Easy integration with social networks
Like,Dislike and Spam Reports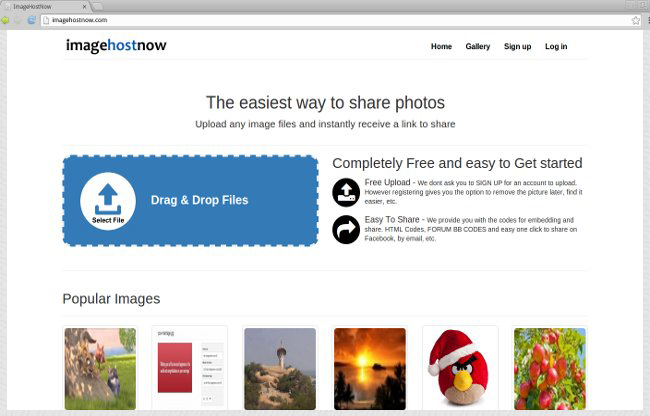 ---
Admin Features
Site statistics
Site Settings
User Management
Image Managemant
Change admin password
Admin can edit/suspend/delete members
Manage Active,inactive and suspended Users
Admin can view/delete images
Search images with File Name/IP
Create, edit, delete web pages
Set Thumbnail width and height
Set Number of Popular images in Home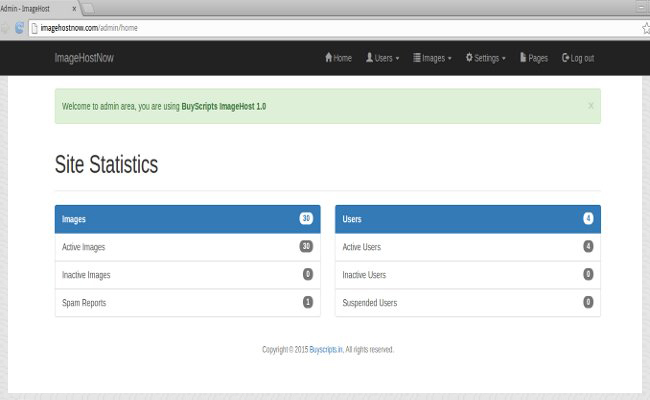 ---