vShare 3.0 - Video Sharing Script
Start Your own video sharing site like YouTube (YouTube Clone)
vShare is a YouTube Clone script that allow you to run your own video sharing portal like YouTube.com, Metacafe, Dailymotion, Google Video, Yahoo Video and others
vShare allow your visitors to upload, view, share video clips, comment and bookmark other video's.
vShare convert user uploaded video to MP4/FLV format, this allow streaming of video with flash player.
Video sites are making tons of money. Metacafe received 17 millions venture capital for its site, just to have a site like this. Vsocial, Youtube, Videomotion and DailyMotion make tons of money, and now you can too with a little imagination and application.
Now even Microsoft, Yahoo and AOL launched YouTube clone sites, because they make good money. It is estimated that in 2010 these sites will reach 17.2 billion dollars and will start replacing TVs...
Price: $10.00
---
Why Buy vShare YouTube clone
When you buy vShare YouTube clone, you will get 1 Year FREE update and bug fix.
We are working on to add new features like
Multiple Templates
Better Flash Player
Support for Multiple Servers
Signup using social network authentication
and many more...
New In vShare Youtube Clone 2.9
Brand New Bootstrap theme
Improved Speed & Security
Multi-Server Support
Lighttpd and Nginx Media server support
Embed videos from other sites
Search Engine Friendly URLs
Advanced Meta-Tag Support
HTML5 Upload Progress Bar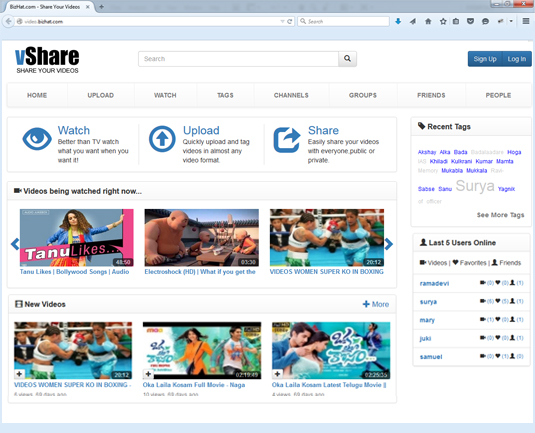 Requirements
MySQL 5
PHP 5.3 or higher
MySQLi
Fmpeg (http://ffmpeg.mplayerhq.hu)
Mplayer + Mencoder (http://www.mplayerhq.hu/design7/dload.html)
flvtool2 (http://inlet-media.de/flvtool2)
qt-faststart
Libogg + Libvorbis (http://www.xiph.org/downloads)
LAME MP3 Encoder (http://lame.sourceforge.net)
Click here for details
NOTE: Not all shared web hosting support requirement for YouTube Clone Script.
You can get web hosting with support for YouTube clone script from http://hostonnet.com/ffmpeg-hosting
---